Highlight 1: Outstanding Services
Center for Medical Genetics Research is responsible for operating research and development of knowledge and personnel in the area of genetic medicine relating to mental health and psychiatry as well as facilitates services in genetic analysis relevant to the tasks mentioned.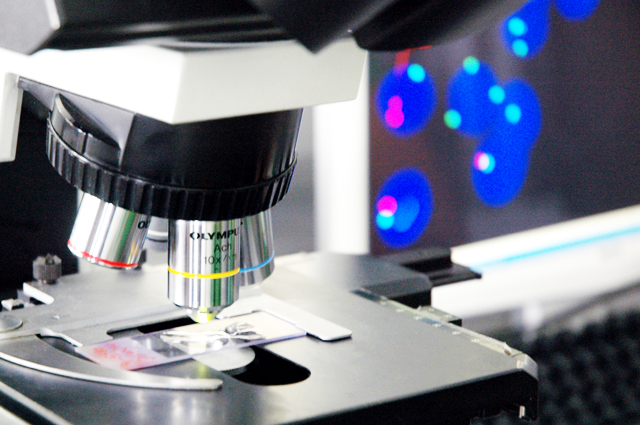 The Center for Medical Genetics Research comprises 4 major missions as follows:
1. Service in genetic analysis
2. Research and development on genetic medicine relating to psychiatric and mental health problems
3. Teaching and training for personnel in the area of medical sciences
4. Medical tissue bank
1. Service in Genetic Analysis
Nowadays, the genetic advancements allow us to know that diseases or abnormalities are caused from the deficits of gene in the human body, for example, trisomy 21 causing Down syndrome or the abnormality of BRAC1 gene exposing woman to the high risk of developing breast cancer. The analysis of genetic abnormalities has recently played a key role in medical diagnosis, facilitated the treatment plan, prognosis, counseling and proper reproductive planning as well.
The Center for Medical Genetics Research also has a modern medical laboratory with medical doctors and specialized personnel and has met the ISO 15189:2007, so it boasts of its services for customers with quality of results of diagnostic tests equivalent to international standards. It also expands its diagnostic tests in 3 more areas to facilitate the diagnosis and to increase the quality of medical services in the following areas:
1.1 Chromosome Analysis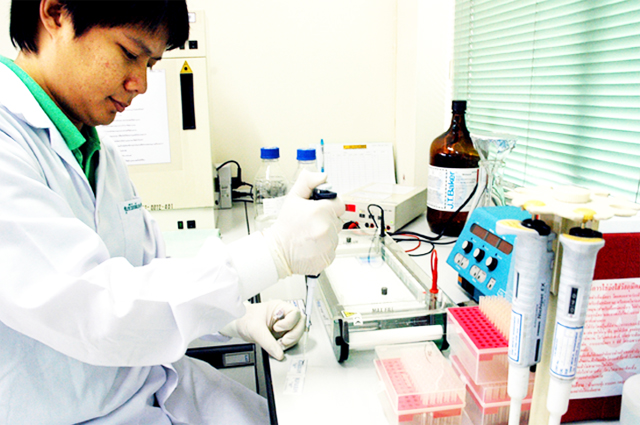 Chromosome analysis is one of the genetic screening tests that can examine the genetic abnormality in various methods such as amniocentesis test to find the chromosomal abnormality in fetuses, blood test to detect the chromosomal abnormality in adults, bone marrow examination to explore chromosomal abnormality in many types of cancers, etc. Besides, the high resolution chromosome study is also applied for all samples here.
1.2 Analysis of Fluorescence in situ Hybridization (FISH)
FISH can be used to detect the abnormalities with fast and high accuracy. It is useful for a number of clinical diagnosis since FISH analysis can detect abnormality in infinitesimal chromosome which can not be found by submicroscopic abnormality. At present, FISH is widely used for confirming test of microdeletion syndromes such as DiGeorge/ velocardiofacial syndrome, Williams syndrome, Prader Willi/ Angelman syndrome, Smith-Maganis syndrome, Isolated Lissencephaly syndrome, etc. In addition, FISH can also be applied for prenatal analysis, for instance, test for trisomy 13, 18, 21 or used for gender diagnosis and for follow up the result of bone marrow transplantation. FISH analysis is manipulated in both interphase and metaphase of cell division.
1.3 DNA Analysis
There are some DNA abnormalities for which chromosomal analysis or FISH method cannot be used or can use but with low accuracy, for instance, Fragile X syndrome and so on. In some diseases such as Prader Willi/ Angelman syndrome, there are other abnormalities that cannot be tested by FISH like uniparental disomy and so on. Hence, fast and high accuracy of DNA analysis is required to confirm the result. The center has launched the test of MECP2 mutations causing Rett syndrome by examining exon 1-4 and splice site with PCR and sequencing plus additional MLPA technique in the case that abnormalities cannot be detected by direct sequencing method.

2. Genetics Medical Research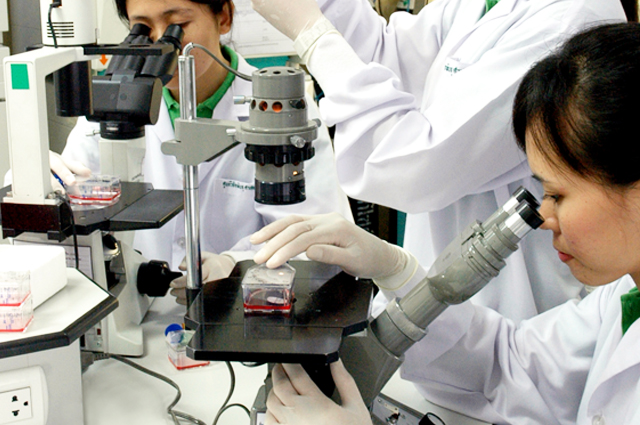 The Center for Medical Genetics Research is the main unit of the Department of Mental Health carrying out the research program on gene relevant to psychiatric diseases. Currently, the center is undergoing the program called "Test of Large Deletions of Methyl CpG-binding protein2 (MECP2) in Thai patients with Rett syndrome using Multiplex Ligation-dependent Probe Amplification (MLPA) which probe is smeared with fluorescent specific to targeted DNA sequences of patients who supposed to have deletions or amplifications. This method increases the chance to detect the abnormality of MECP2 gene.
3. Teaching and Training
The Center for Genetic Medicine Research has initiated the teaching and training program for both undergraduate and postgraduate students including medical sciences personnel from other organizations to obtain knowledge, understanding and experience in the field of medical genetics.
Contact Information
Center for Medical Genetics Research
Rajanukul Institute
4737 Dindaeng Road, Dindaeng District, Bangkok 10400
Tel: 02-248-8900 Ext. 70331, 0-640-2038, Fax: 0-2640-2038